Respect in the Workplace:
Online SCORM Training Package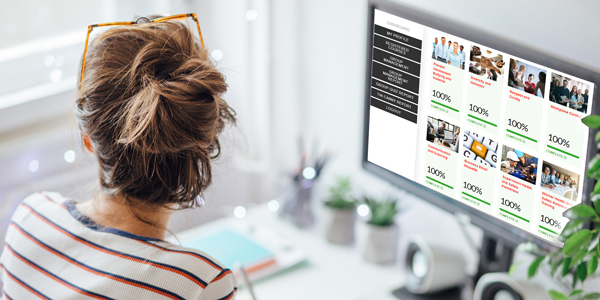 HR Proactive Inc.'s
Respect in the Workplace Online SCORM Training Package
is a sustainable solution to ensure an inclusive and safe workplace culture. Our internationally renowned Respectful Workplace Online SCORM Training Program is the premier training of choice by companies that want one solution to fit for all their locations whether in Canada, the United States, the United Kingdom or China. HR Proactive Inc. provides a first-class training experience that exceeds the employer's compliance requirements and helps protect and promote a positive workplace culture and reputation. Our
Respect in the Workplace Training Program
is available to purchase as a SCORM Compliant Package and can be hosted on your/our Learning Management System. Our online Respect in the Workplace SCORM Training Program can be customized with your company brand/logo and policy.
Developed by HR Proactive Inc., our course material presents an interactive design for education and training which is highly engaging and experiential with real-work scenarios throughout that help reinforce respectful workplace concepts to ensure retention of knowledge.
The goal of our online
Respect in the Workplace Training Program
is to give participants knowledge and tools to drive behaviour change so employees can be the first line of defense to better identify and deal with harassment/discrimination, bullying and violence.
At HR Proactive Inc., the real value proposition is giving our clients a choice. We can provide them with a robust platform or we can provide them with compelling content that works in their own LMS.
What are the benefits of using SCORM compliant training courses?
Allows you to purchase or license our course content (including videos, participant guides, quizzes) and host on your own LMS
Saves time and money purchasing off-the-shelf content
Train as many employees as you wish with no additional fees
Have instant onboarding courses to meet your compliance needs
Track the progress of your employees
Enroll participants as often as needed
SCORM allows content creators like HR Proactive Inc. to distribute content to a wide variety of Learning Management Systems without any compatibility issues
Best Selling 4-Course SCORM Bundle:
Online Training – Four Certifications; Quiz & Quiz Key; and many additional assets.
Call us today for pricing on our SCORM products.
HR Proactive offers several options
to train your workers quickly, easily
and cost-effectively.
HR Proactive Inc. is here to assist you with your company's training needs.
Contact us today.
We can help.